If you're looking to replace or update your fleet of school buses in Indiana, look no further than MacAllister Transportation. We're your one-stop headquarters for a wide selection of Blue Bird buses. The Blue Bird name has been synonymous with quality, reliability, and most of all, safety since 1927. Blue Bird Corp. continues to set the industry standard with its forward-thinking design and unparalleled manufacturing capabilities.
MacAllister Transportation Offers the Latest Blue Bird Buses for Sale
We're pleased to offer a full line of brand-new Blue Bird buses that run on gasoline, diesel, CNG and propane, as well as a battery-powered electric model that produces zero emissions and can significantly reduce your fuel and maintenance costs. Choose from an assortment of Type A, C and D school buses in numerous sizes and capacities ranging from 14 to 84 passengers. You'll also have access to an assortment of features and options designed to enhance safety and performance and lower your long-term ownership expenses. Examples of our new Blue Bird bus inventory include:
Save Money by Purchasing Used Blue Bird Buses
Schools, churches, child care centers and other organizations throughout Indiana often must find ways to make the most of limited budgets these days. If new buses are a little out of your organization's price range, used Blue Bird buses from MacAllister Transportation can provide an economical alternative. Depending on availability, our inventory can consist of late-model buses, as well as older units that can meet your budget requirements.
Complete Selection of Blue Bird Bus Parts and Reliable Services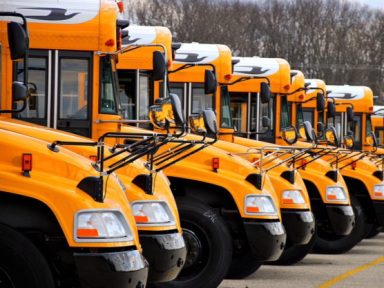 As a full-service Blue Bird bus dealer in Indiana, MacAllister Transportation will be there to keep your buses on the road with Blue Bird parts and service. We carry a full selection of replacement parts for Blue Bird, Roush, Ford, Cummins and other manufacturers as well. With our modern, efficient supply chain, we can obtain those obsolete or hard-to-find parts quickly. You can also trust us to take care of all your preventive maintenance needs, and our well-trained, experienced bus service technicians can perform any type of repair job, from minor brake adjustments to extensive engine overhauls.
We have multiple service locations across Indiana as well as a fleet of service vehicles that can perform service at your location. The convenience and turnaround time for repairs that MacAllister Transportation provides is best in class in Indiana.
Convenient Locations to Serve You
You'll find MacAllister Transportation in the following Indiana cities:
Our experienced, knowledgeable salespeople can help you select the ideal Blue Bird buses for your applications and budget. You will also receive the legendary service and support that have been a MacAllister Machinery hallmark since 1945.
We invite you to stop by for a closer look at our Blue Bird bus inventory. You can also give us a call or contact us online for additional product and pricing information.