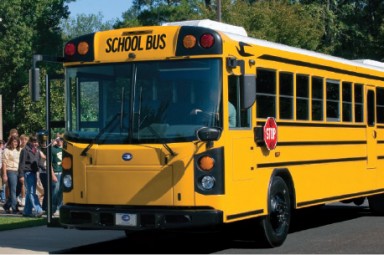 Engine placement is an important factor to consider when deciding what type of bus is best for your school or organization. Rear-engine buses offer many attractive advantages. They provide easy entry for passengers, and they're more lightweight than their front-engine counterparts. Rear engines also allow for better comfort and visibility for the driver since the front glass can be lower.
High-quality rear-engine buses can provide you with these benefits for years to come. If you're looking for a new or used rear-engine bus, you'll find many styles to meet your needs at MacAllister Transportation. We offer rear-engine buses for sale that are both affordable and highly dependable for a wide range of uses.
New Rear-Engine Buses for Sale
A new rear-engine bus delivers excellent safety and reliability over a long lifespan. If you're searching for a new rear-engine commercial bus or school bus, you'll find an array of solutions with MacAllister Transportation. We offer both a wide in-stock selection and buses on order with quick delivery options.
We can also install custom add-on features to your new rear-engine bus as needed. If your organization has custom transportation requirements, you can contact our knowledgeable sales staff to find the right bus and custom features for your needs.
Used Rear-Engine Buses From Trusted Manufacturers
Schools and businesses looking for a transportation option that's both top-quality and cost-effective will enjoy a used bus from MacAllister Transportation.
Discover your perfect rear-engine bus among major bus manufacturers like International, Blue Bird and Thomas. We offer a full inventory that changes regularly, so check back often to find the best rear-engine bus to meet your needs.
Parts and Services for Your Rear-Engine Buses
The parts you use to service your buses can make the difference between frequent repairs and a bus that runs smoothly for years to come. MacAllister Transportation offers the new and used parts you need to keep your bus running to the best of its ability. You'll find dependable and affordable options in our inventory.
Along with the parts you need to maintain your bus, we also offer a full range of services for our customers' rear-engine buses, including a fleet of field service trucks that can perform services at your location. Enjoy quality support before, during and after your sale, with services including:
Annual DOT inspections
Front-end repairs
HVAC services
Electrical system inspections
On-site mobile technicians
Transmission services
Preventative maintenance
Reduce your downtime and increase your productivity with these and other timely repair services and preventive support.
Visit MacAllister Transportation — Your Trusted Rear-Engine Bus Dealer
MacAllister Transportation is here to help you put an end to your search for a rear-engine bus dealer. We provide the highest quality buses to schools and organizations throughout Indiana. We offer products and services in several locations so that you can enjoy fast, convenient services wherever you might be.
Our inventory features a wide range of brands, styles and prices to meet the unique needs of businesses like yours. Visit us at your nearest location to browse our fleet in person, or contact us for more information.