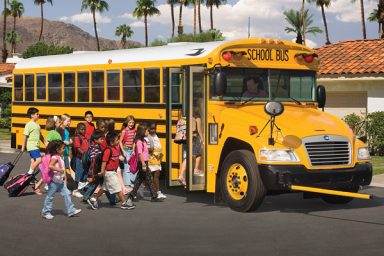 News: Blue Bird Unveils New Gasoline-Powered Type C Vision School Bus
The Blue Bird Vision forges ahead as a leader in school bus safety.
The Vision's purpose-built, angled hood offers the greatest loading and unloading zone field of vision in a conventional Type C school bus.
The instrumentation includes a driver-information-display panel to provide a wealth of system information to both drivers and service technicians.
A choice of diesel or propane engines offers school bus customers an attractive array of fuel options to meet changing market needs.
And with capacities ranging from 30 – 78 students, the Blue Bird Vision offers the flexibility needed for today's transportation needs and the safety, quality, and durability to ensure that this school bus continues to meet those needs well into the life of the vehicle.
Learn More About the Blue Bird Vision School Bus