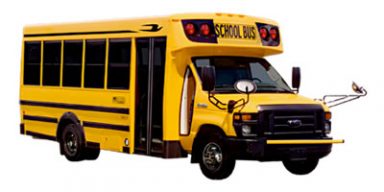 If your school, Head Start, church or similar group needs a vehicle to transport only a few students, you might be looking for something smaller than a traditional school bus. A Type A bus — also known as a mini bus — offers a compact body so you can easily keep an eye on all your passengers. This small-scale bus is composed of a bus body and a cutaway front section with the driver's door on the left.
MacAllister Transportation offers a wide range of new and used Type A buses for sale. You'll find vehicles that are highly affordable in our inventory.
Explore New Mini Buses for Sale
Enjoy a new bus you can use reliably for years. MacAllister Transportation offers Blue Bird's Micro Bird Type A buses that are suitable for up to 33 passengers and also buses with wheel chair lifts. As an innovator in the industry, Blue Bird offers buses of the utmost safety, dependability and serviceability.
We offer mini buses both in stock and on order with quick delivery. You can also request a wide range of custom add-on options to meet the individual needs of any passenger.
Enjoy Used Type A Buses From Today's Top Manufacturers
For those who want a cost effective solution, we have used mini buses for sale. Choose from brands such as Blue Bird and Thomas.
Our used inventory is continually changing. Contact us or check back often if you don't see what you're looking for, and we'll do everything we can to find the used Type A bus to meet your needs.
Parts and Services for Your Type A Bus
The longevity of your Type A bus often depends on the parts you use. At MacAllister Transportation, we offer the new and used parts you need to keep your mini buses up and running for many more miles to come. Both solutions provide the utmost dependability while keeping more money in your wallet.
We also offer repair and maintenance services at our locations throughout Indiana. Our experienced service professionals will get your vehicle back to working order as quickly as possible to reduce downtime and maintain your productivity. Services include:
Annual DOT inspections
HVAC repairs and service
Engine repair and replacement
Preventative maintenance plans
Transmission repairs
Front-end repairs
Choose MacAllister Transportation as Your Type A Bus Dealer
If you're looking for a mini bus dealer in Indiana, MacAllister Transportation is here to offer solutions.
We've spent years serving the needs of schools and organizations in the local area, and our professionals are thoroughly knowledgeable in all kinds of bus services. Our experienced sales staff is here to help you choose the best type of bus for your needs from a large inventory of Type A buses and other models.
Contact us today for more information about our selection of Type A buses, or stop by your nearest MacAllister Transportation location to talk to us in person.