As a school or childcare organization, you're keenly focused on your students' safety. The school buses are an important part of creating this safe, secure environment. When you're looking for a school bus that delivers quality, safety and dependability, few bus manufacturers can compare to Blue Bird.
Since 1927, Blue Bird has set the bar high for innovative bus designs and superior manufacturing. The company has a global presence through an extensive network of dealers and service facilities, and it is one of the most well-known brands in the industry.
At MacAllister Transportation, we're proud to be one of these dealers. We offer an extensive inventory of new buses for sale. When you're looking for an affordable new bus that will last you for many years to come, check out our inventory of top-quality buses.
Whatever your needs or budget might be, we offer several bus models to choose from. Pick from small or large buses designed to handle an array of activities. Our selection includes: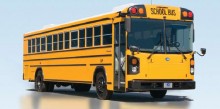 Blue Bird Electric School Bus: Available in several styles, the Blue Bird Electric Bus is the perfect option for those looking to reduce operating costs and environmental impact. They fully charge in 6-8 hours and can hold between 30 and 84 students.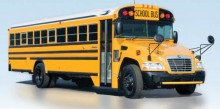 Blue Bird Vision School Bus: These conventional Type C school buses offer a full field of vision and flexible fuel options. They can hold 30 to 78 students.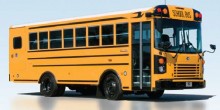 Blue Bird All American Forward Engine School Bus: The All American line of Blue Bird buses feature a 33% larger windshield and convenient LED rear lighting. The forward engine is ideal for routes that need extra power. These buses can accommodate 54 to 84 students.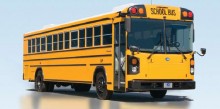 Blue Bird All American Rear Engine School Bus: The rear-engine version of the All American line is perfect for high-population areas and tight or winding roads. These buses can hold between 66 to 84 students.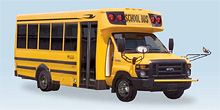 Blue Bird Micro Bird: Micro Bird buses can hold between 9 and 33 passengers, making these Type A buses ideal for small schools, childcare centers, churches and similar organizations.
New School Buses for Sale
A new school bus offers many benefits for your school or organization. When you choose a new bus from MacAllister Transportation, you'll enjoy:
Safe and comfortable operation
Low maintenance costs
Long lifespan
Increased efficiency
MacAllister Transportation Is Your Trusted School Bus Dealer
School buses are in demand throughout Indiana. If you're looking for the best place to meet your transportation needs, turn to MacAllister Transportation.
With more than 70 years of experience serving the local area, we are uniquely positioned to understand your requirements and guide you to the best school bus for your school or childcare organization. We offer new and used Blue Bird school buses, parts and services at locations throughout Indiana. Whether you're in or near Fort Wayne, Indianapolis, Lafayette, South Bend, Terre Haute, you can count on our experts to provide the timely and affordable products you need.
Our school buses for sale offer Indiana schools a unique blend of safety, reliability and affordability. Visit us at one of our convenient locations to check out our fleet of new buses, or contact us online for more information.
Exclusive Partnerships
Roush Clean Tech
Micro Bird
Hendrickson Suspension
HSM Seats