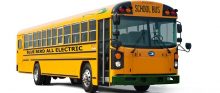 Prepare your fleet for the future with a Blue Bird electric bus. Blue Bird has been a pioneer in school transportation since its founding in 1927. The company released its first electric model in 1994.
Today's Blue Bird electric buses deliver reliable performance and lower operating and maintenance costs. They may also qualify for grants and other incentives that can offset the initial purchase price.
As your Blue Bird dealer in Indiana, MacAllister Transportation provides sales and service for the company's full lineup of electric school buses. When it's time to expand your fleet, choose a partner that can match you with forward-thinking solutions. Contact MacAllister Transportation to learn more.
Blue Bird Electric Bus Models
Blue Bird manufactures three electric bus models:
All American RE Electric: The All American RE Electric seats up to 84 passengers. This rear engine model has a range of 120 miles.
Micro Bird G5 Electric: The Micro Bird G5 Electric is the smallest Blue Bird electric bus for sale today. Perfect for small schools, senior centers and other organizations, it seats 30 and has a range of up to 100 miles.
Vision Electric: The Vision Electric is a Type C bus with seating for up to 78 and a range of 120 miles.
All Blue Bird electric buses come to a full charge in between 6-8 hours. All models are customizable to meet your specific transportation needs.
Why Go Electric?
Blue Bird electric buses combine a reliable drivetrain with innovative battery technology. Choose a Blue Bird electric bus and benefit from:
Lower maintenance costs, with fewer wearable parts and no need for regular oil and filter changes
Lower operating costs, as you'll save money on diesel or gas fuel
Innovative temperature control systems for improved comfort in any weather condition
A wide range of grant initiatives for school boards and organizations to take advantage of
Of course, the most important benefit of an electric bus is its emissions-free performance. Going electric lowers your carbon footprint, eliminates compliance issues with future environmental regulations, and sets an example for everyone who rides with you.
In an age of increased environmental awareness, buying an electric bus is a smart choice.
Electric Buses From MacAllister Transportation
Expanding your fleet and reducing your reliance on fossil fuels are big decisions — and big changes — for any organization. It's important to have a partner that can help you make an informed choice when buying an electric bus.
MacAllister Transportation has more than 70 years of experience serving clients in Indiana and beyond. We are an authorized Blue Bird electric bus dealer with a large selection of new school buses for sale. We work with school districts, community centers and other organizations — and we can match you with the right electric bus for any application.
We stand behind everything we sell with service from highly trained technicians and support from our knowledgeable parts and sales team. To learn more about your options or to request a quote for a Blue Bird electric bus, visit our Bus HQ at 8800 Brookville Rd, Indianapolis, IN 46239.