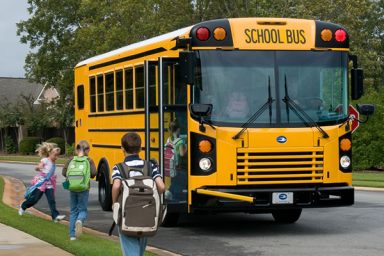 When choosing which type of bus is best for your school or organization, engine placement is an important factor to consider. Traditional front-engine buses offer many benefits that could make them an attractive option. Most front-engine buses feature large cabins ideal for transporting many passengers. The spacious design makes the bus comfortable for both its driver and riders, and a front engine is easily accessible during maintenance.
If you're in the market for a new or used front-engine bus, you'll find an array of solutions with MacAllister Transportation. We offer affordable and dependable front-engine buses for sale that you can enjoy for many years to come.
New Front-Engine Buses for Sale
A new front-engine bus offers a great lifespan and exceptional safety. If you're looking for a new school bus or commercial bus for sale, you'll find the solutions you need with MacAllister Transportation. We have many buses in stock, as well as buses on order with quick delivery.
If you need custom add-on options, we can install features to meet your needs. One of our service professionals will be happy to look through our available fleet and customization options to find your perfect solution.
Used Front-Engine Buses
A used front-engine used bus from MacAllister Transportation is an ideal option for schools and businesses that don't want to sacrifice quality for cost-effectiveness.
You'll find used buses from all major bus manufacturers, such as Blue Bird, International, Thomas and Amtran. Our inventory is always changing, so check back often to find the best front-engine bus for your needs.
Parts and Service for Your Front-Engine Buses
The right parts can keep your front-engine buses running smoothly for years. At MacAllister Transportation, we offer new and used parts to maintain your bus' performance. Our parts are both dependable and cost-effective so that you can get back on the road with ease.
We're also happy to keep your buses up and running with a range of top-quality services, including our fleet of field service trucks that allow repairs to be performed at your location. Our experts have decades of experience diagnosing and repairing school and commercial buses. We're here to help you with any questions you might have before, during and after the sale.
HVAC repair
Annual DOT inspections
Engine replacement and repair
Front-end repairs
Transmission repairs
Preventative maintenance
Our timely services ensure your bus is running as soon as possible with virtually no downtime or lost productivity.
MacAllister Transportation Is Your Trusted Front-Engine Bus Dealer
If you're searching for front-engine bus dealers and don't know where to turn, let us help.
MacAllister Transportation provides the most dependable buses to Indiana schools and organizations. We operate several locations throughout the state to give you the utmost convenience when buying or servicing your front engine fleet.
Choose from a selection of trusted brands that offer safety, comfort and reliability. Stop by one of our locations to browse our current inventory, or contact us online for more information.