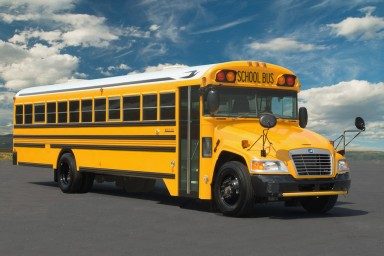 A Single, Consistent "Vision"
Emissions Compliance Today & Tomorrow
There has been a great deal of discussion lately about EPA emissions compliance and the strategies employed to meet standards implemented over two years ago in January, 2010. Additionally, there are Greenhouse Gas regulations (GHG14) poised to take effect in 2014. This latest round of regulation deals with CO2 emissions and is geared toward improving fuel economy performance in buses.
2010 Compliance – A look back…
After considerable study and testing in real world conditions, Blue Bird and its engine partner, Cummins, chose SCR as the path towards EPA compliance over 5 years ago. Simply put SCR offers the best balance of fuel economy and performance in the school bus market today. This was evident to us long before any deadline forced our hand. Therefore, we were able to set about designing our products to accommodate the new systems with the goal of making them easy to use and simple to maintain.
Where we are today…
Now, after nearly two and a half years of robust performance, we are happy to report that we definitely made the right decisions. SCR equipped engines produce improved fuel economy. Based on 3rd party testing results, they are delivering an 11% – 13% advantage over non-SCR engines in the marketplace. Additionally, they are providing reliable service to their owners. The basic engine and bus design has been consistent with previous generations — meaning our customers are completely familiar with the equipment they are receiving and they don't need to worry about any new, expensive add-on parts. Finally, we are 100% certified AND compliant with EPA 2010. The engine offerings we provide meet all NOx and Particulate Matter requirements without the use of emissions credits. In short, this means "what you see is what you get", our design is stable and consistent. You won't see any changes with the basic system in place today as we move forward to the next step in emissions compliance.
Where we are going tomorrow…
We now need to focus on the Greenhouse Gas Regulations set to take effect in 2014. As stated above, GHG14 is aimed at reducing Carbon Dioxide emissions in trucks and buses. This reduction is achieved by further improving fuel economy. Since we are fully compliant with current EPA emissions standards and have been for some time now, we have been able to concentrate our efforts on meeting GHG14 ahead of schedule and without major equipment changes.
It's already been proven that our current generation of offerings delivers unsurpassed fuel economy. Therefore, we are able to spend the remainder of our time in the run-up to 2014 working on the non-engine related components. Areas such as aerodynamics and low-rolling resistance tires will be the areas we concentrate on because we know we have the engine and its sub-systems already in place. You may see a few minor tweaks here and there but there will be no need for costly new systems in our future.
More importantly, since school buses are all we do, we don't have to ration our attention to detail because we are dealing with a crisis in some other area of our business.
We look forward to meeting with all of you over the upcoming year to showcase our products and plans for the future. You don't have to take our word for it; we can show you why our "Vision" is the BEST choice.
"Blue Bird is focused on providing customers with the best in affordable, green technology and Cummins' SCR technology gives our customers the ability to achieve near-zero emissions."
– Phil Horlock, CEO, Blue Bird
7 REASONS WHY BLUE BIRD IS YOUR BEST PURCHASING CHOICE
BLUE BIRD BRAND – Backed by 80 years of experience and commitment to safe school transportation.
PURPOSE BUILT SCHOOL BUS – School Buses are what we do and all of our resources are devoted to providing the best school transportation solutions.
CUMMINS ENGINES – Our partner in delivering top fuel economy numbers today and tomorrow.
SCR – The premier emissions technology that delivers better fuel economy, better reliability, and lower maintenance costs without the addition of complex hardware to your engine.
LOWEST TAILPIPE EMISSIONS – Partnering with Cummins engines has provided us with the ability to produce buses that meet and exceed near-zero emissions without the use of credits.
STABILITY – We chose our path years ago and have stayed the course to produce results. No last minute changes or deception.
CLEAR PATH TO FUTURE COMPLIANCE – Our good decisions in the past have set the stage for future regulatory compliance without risky, complex changes.